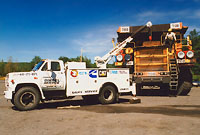 DIESEL SERVICE, INC. was established in 1969.
We have EXTENSIVE knowledge and experience in all types of diesel engine applications, from small power units to large industrial diesels. Diesel Service Inc. is a multi-franchise dealer for Caterpillar (TEPS), Cummins, Detroit Diesel, Perkins, Deutz, Kubota, Wisconsin, Continental, Murphy, and Ford Power Products. We provide sales, service, and rebuild engines from 5 to 2500 HP, for any engine manufacturer such as Mack, Komatsu, CAT Industrial, John Deere etc.
The PARTS DEPARTMENT has an extensive stock of new and RX components and RX engines. Our technicians are factory schooled, certified, and trained, and are completely capable of meeting your service needs.
Our FLEET of fully equipped SERVICE TRUCKS (with booms) are on call for 24 hour emergency service and are ready to provide full off road and field service for your industrial equipment. Our current service areas include: Pennsylvania, New Jersey, Maryland, Delaware, and New York.
Our physical FACILITY of 48.000 SF includes a full engine machine shop, a certified fuel injection and pump rebuilding shop, and dynamometer testing for engines up to 2500 HP.

All of OUR WORK is WARRANTED and we are proud of our reputation of providing honest, quality workmanship at highly competitive prices.
We VALUE all of our customers and provide value for them.